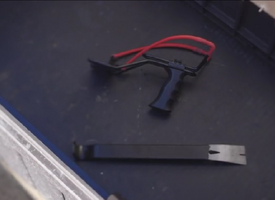 This page contains lists of
The Killer's
accessories, including murder weapons, devices and some red herrings used in
Whodunnit?
following chronological order.
Murder Weapons: The weapons that contributed to the victims' "deaths".
Accomplices: Everything that helps The Killer carry out the "murders" (including anything that caused severe wounds to the victims, thus the mountain lion).
Red Herrings: Anything that serves the purpose of distracting the contestant either in the riddle part or in the investigation part (thus the monitors in Kaboom) and can overlap the accomplice part if such red herring did some sort of damage to the victim when he/she's still alive.
Italic murder weapons: The murder weapons intended for the victims but not used. Also italic COD denotes supposed COD of the victims if such weapons was used.
LIST OF ACCESSORIES USED IN SEASON 1

Episodes
Victims
Murder Weapons
(Final COD)
Accomplices
Red Herrings
High Voltage

+ Slingshot
→ Gunshot

+ Crowbar
+ Message on the mirror

+ Open window

+ Cut cord
+ Shattered fish tank
Fire Starter

+ Benzene-soaked pajamas
+ Static-absorbed socks
→ Burn
+ The note
+ St. Agatha's medallion
Kaboom

+ Bomb
→ Explosion
→ Burn

+ Surveillance tapes
+ Detonation control

+ Broken tree limb

+ Golf cart remote control
+ Monitors scattered round the manor
Mountain Lyin

+ Cyanide gas
→ Poison
+ A mountain lion named Kona (since it left a few scars on Don)
+ Pressure pad
+ The mountain lion
Bum Ba
Dee Da

+ Poisoned nails on a wooden plank
→ Poison
+ Bird cage
+ Trip wire
+ A scarlet king snake left in a saddle bag
All The World's A Stage

+ Scalpel
→ Blood Loss
+ Hunting knife (for Dana only)
+ Chloroform
+ A metal rod to break into Dana's and Sasha's rooms
+ 3-wheeled black cart
+ A pair of stuffed shoes (played an important role in hiding the killer's true identity)

Party Crasher

+ Fluoresced lei
→ Suffocation
+ Suppressed 9mm
→ Gunshot
+ A note instructing him to steal Giles's phone
+ Night vision goggles
+ Timed transformer (rigged the manor's power grid)
+ A falling chandelier set in motion by a lever
Frost Nixin

+ Ricin powder (disguised as coffee cream)
→ Poison
+ Surveillance camera
+ Book of poisons
+ Timed nitrogen tank (which froze the pools and created the explosion)
Golden Cuffs

+ Fluoresced lei
→ Suffocation
+ A thick smoke that filled the manor
(none)

+ Arrow
→ Blood Loss
+ Rigged suit of armor
(none)