The Movie Theater is an area seen in
All The World's A Stage
with the remaining guests doppelgänger of theirselves. The movie theater is only shown as the area with the clue and when they cut theirselves open. In "
Golden Cuffs
",
Dana
and
Sasha's
body was place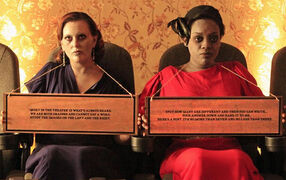 d in the movie theater where they had to do a "Spot the difference" riddle
Ad blocker interference detected!
Wikia is a free-to-use site that makes money from advertising. We have a modified experience for viewers using ad blockers

Wikia is not accessible if you've made further modifications. Remove the custom ad blocker rule(s) and the page will load as expected.